Smoky Paprika Chicken Tray Bake Recipe – Easy & Budget Friendly Healthy Dinner Ideas With Roast Chicken Legs and vegetables.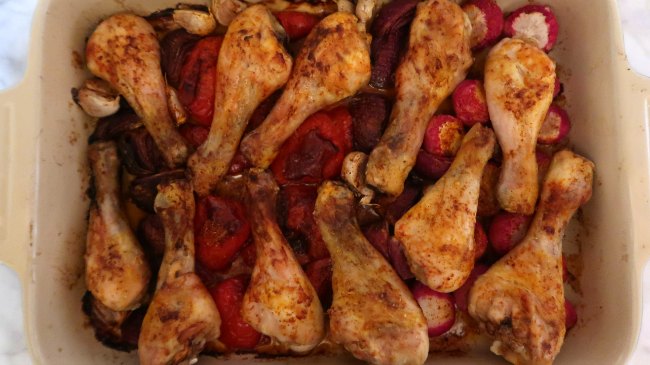 This Chicken Tray Bake Recipe is wonderfully simple, easy to adapt to the ingredients you have to hand and, best of all, is a firm favourite with the family.
Chicken Legs/Drumsticks are our favourite piece of chicken, you could use whichever piece you like instead or even chop a whole chicken into pieces to enjoy in your chicken tray bake.
This dish also happens to be really budget friendly – the package of chickens I used was under 3 Euro/3.40USD and easily fed the whole family.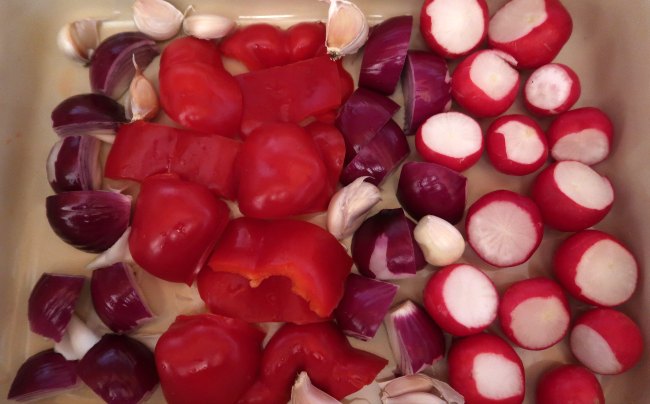 I also chose to include in season vegetables that were economical too. You can use whatever vegetables are in season wherever you are.
You can serve this chicken tray bake with your carby side of choice, by including potatoes in the tray or cooking up some rice or even pasta.
Ingredients
1kg/2.2lb Chicken Legs/Drumsticks
A selection of chopped vegetables – I included onion, garlic, radish, red peppers
Paprika
2 Tablespoons Extra Virgin Olive Oil
Salt, Pepper & Seasoning to taste
Instructions
Preheat the oven to 180C/350F and get out a baking tray that will easily fit your ingredients.
Place the chopped vegetables at the base of the tray.
Top with the chicken.
Shake over paprika to taste.
Drizzle over the olive oil, salt, pepper and seasoning to taste.
Toss and shake the tray around until all of the ingredients are well coated in the oil and seasonings.
Place into the preheated oven for 30 minutes.
Remove from the oven, toss the ingredients around and top with more oil and seasoning, if needed.
Place back into the oven and cook for a final 30 minutes, or until cooked through and golden.
Serve as is or with your side of choice.
The post Smoky Paprika Chicken Tray Bake Recipe appeared first on Yummy Inspirations.
from Yummy Inspirations https://yummyinspirations.net/2018/11/chicken-tray-bake-recipe/