7 Healthy Vegetarian Breakfast Ideas – Quick & Easy Meatless Breakfasts – some with eggs and some with no eggs and other protein rich breakfast inspirations.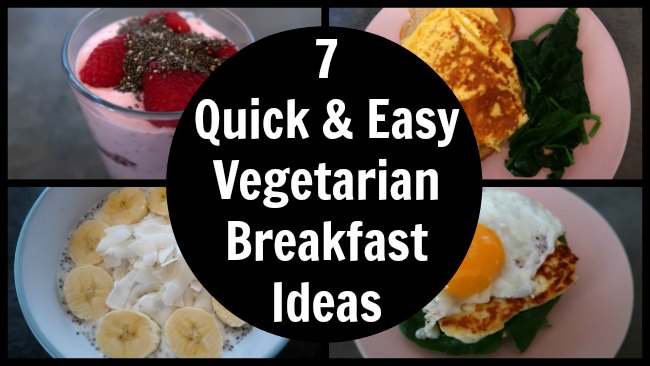 7 Healthy Vegetarian Breakfast Ideas
When you're stuck for healthy vegetarian breakfast ideas, there are actually lots of quick and easy meals to prepare – both with and without eggs.
I've been vegetarian for a little over a month now and I've been loving experimenting with different vegetarian friendly breakfast foods to start my day.
I've been rotating through a few favourites, which I'm sharing with you today. These breakfasts are great regardless of whether you're following a vegetarian diet or not.
Vegetarian Breakfast Foods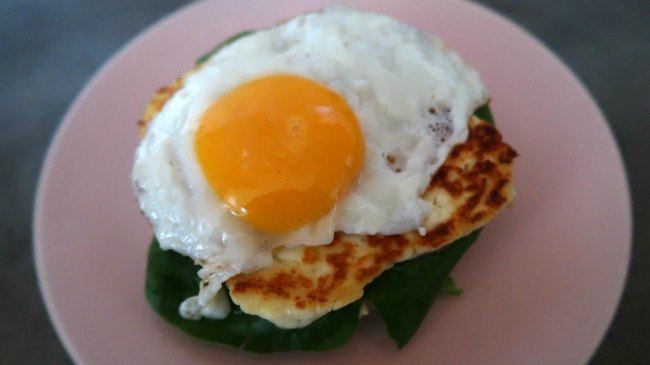 Here's a list of foods to keep on hand to mix and match for quick, easy and healthy vegetarian breakfasts:
Eggs – which are vegetarian friendly, if you're vegan then you'll be skipping these.
Milk – dairy or non dairy milk
Yogurt – dairy or non dairy yoghurt
Cheese – a variety for different uses, dairy or non dairy
Sour Cream/Mayo/Cream – to create a creamy sauce or side for your breakfast
Vegetables – a selection to enjoy to start your day with a portion of healthy vegetables
Fruit – to enjoy on the side of breakfast or mixed through a sweet breakfast dish
Oats – for overnight oats or to heat up for porridge
Nuts & Seeds – for mixing through and sprinkling over breakfasts
Baked Beans – to simply enjoy on toast or in a full, big breakfast
Meat substitutes – vegetarian friendly breakfast sausages/bacon
Bread or Buns – whatever fits your lifestyle to round out your breakfast
Butter, Coconut Oil or your choice or butter/oil for cooking
Day 1 – 3 Veggies and Eggs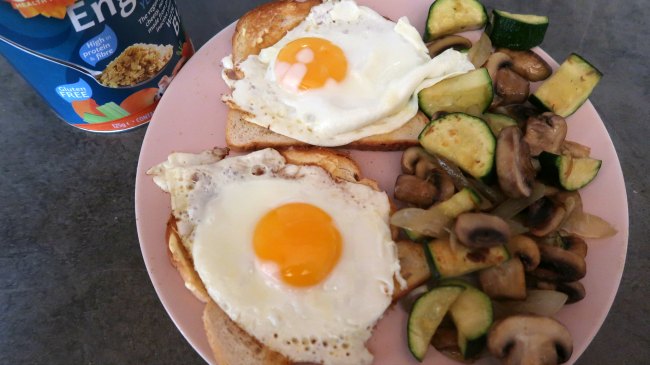 This is what I have for breakfast more often than not – eggs and a couple of veg. (Or more!) I like to try and start my day with a couple of servings of vegetables, sets me up for a day of nutritious eating. (Or, if the day doesn't go to plan, then at least I've had a few serves of veggies!)
You can choose any 3 vegetables to include in your breakfast. Mine included zucchini, mushrooms and onions, but you can use whatever vegetables you like. (Or have lurking in your kitchen!)
Simply melt butter or oil in a frying pan, slice the vegetables and cook until done to your liking. You can add more butter/oil along the way and add salt, pepper or any other seasoning you like.
Then, fry up a couple of eggs and pop a couple of pieces of toast into your toaster too, if you want.
I like topping my vegetables with a teaspoon or so of nutritional yeast. This adds flavour and a range of vitamins to my breakfast. (Where to find nutritional yeast.)
This breakfast is a great way to get ahead of your vegetable intake for the day and is great if you know you'll be out and about and may struggle to eat healthily for the rest of the day.
Day 2 – Chocolate Oatmeal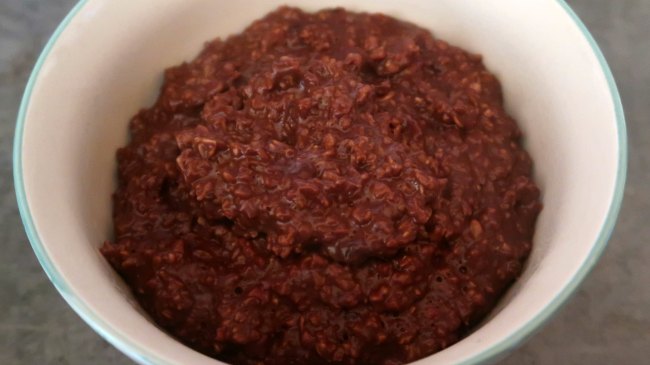 I'm a new convert to oatmeal and this chocolate oatmeal is what sold it to me. To make chocolate oatmeal for one, in a saucepan, combine together 1/2 cup rolled oats, 1/2 cup water, 1/2 cup milk, 1 Tablespoon of Cocoa Powder and 1 Tablespoon of stevia, maple syrup or your sweetener of choice. (Double the volumes to serve two.)
Bring up to a simmer over medium heat and cook until thickened to your liking. You can enjoy your chocolate oatmeal as is or mix through a chopped banana, peanut butter, golden syrup or more sweetness, to taste. Or, for an extra indulgent breakfast, top with a swirl (or two) of whipped cream.
Day 3 – Halloumi Breakfast Burger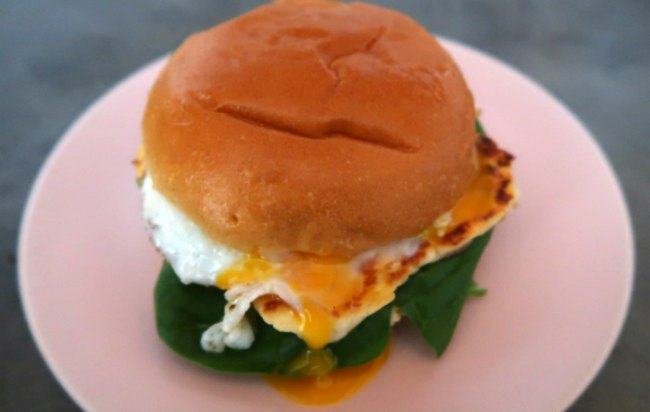 Halloumi is one of my all time, favourite ingredients and I just adore it in this breakfast burger. Simply slice halloumi into long strips or burger sized patties, like I've done in the picture below. Then, cook until golden and done to your liking.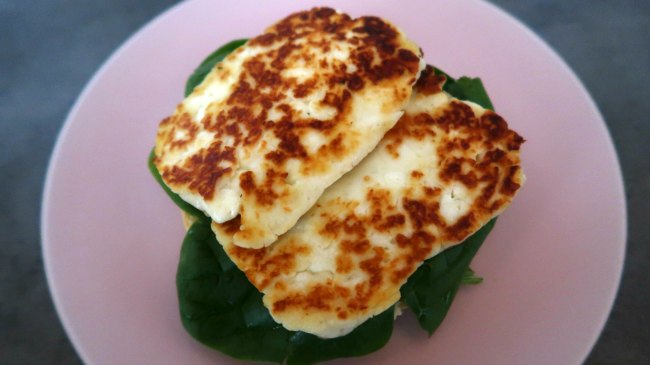 To assemble your breakfast burger, fry up an egg (or two) and fill a burger bun with the cooked halloumi, egg and your burger fillings of choice.
In this instance I simply lightly buttered the bun (with butter) and placed a handful of spinach beneath the halloumi and fried egg. Tomato and/or lettuce would work really well too.
Lastly, pop the top of the bun over the egg and enjoy your runny egg and halloumi breakfast burger.
Day 4 – Breakfast Parfait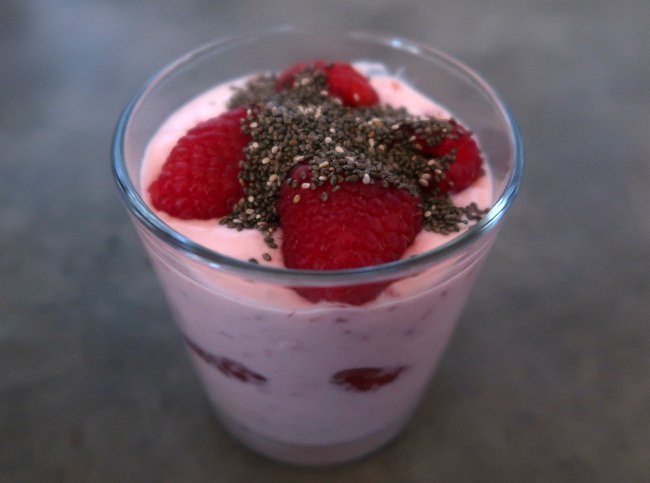 A parfait is one of the easiest healthy vegetarian breakfast ideas. Simply grab a glass or bowl and layer up nutritious vegetarian ingredients such as:
Yoghurt
Fruit, jam or fruit puree
Chia Seed Jam (Here's the easy recipe)
Granola
Chia Seeds
Nuts or Nut butter
Day 5 – Cheese Omelette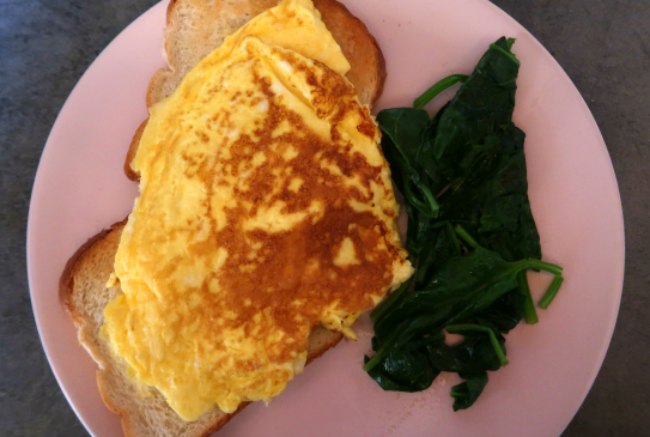 There are many vegetarian friendly ways to enjoy an omelette. My personal favourite is a cheese omelette with spinach on the side, to help balance the cheesy richness.
You could also cook up a selection of vegetables first until done to your liking. Then, move to a plate, cook your omelette and fill with your cooked veggies. Another favourite of mine is a pizza omelette. (Get the recipe here.)
Day 6 – Overnight Oats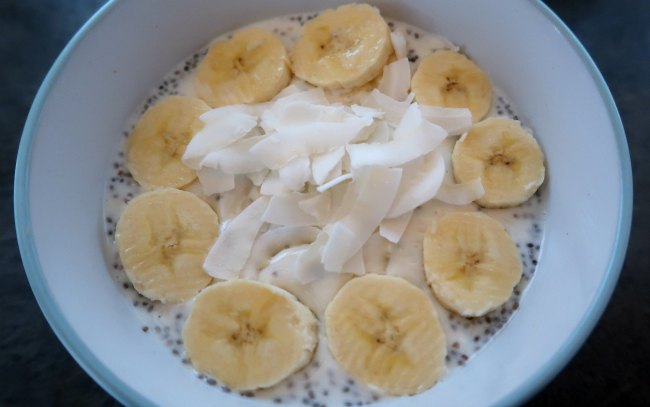 This is the perfect make ahead vegetarian breakfast. Here's how to make a portion for one – in the evening, combine together 1/2 Cup Oats, 1/2 Cup Yoghurt and 1/2 Cup milk in a bowl. You can also mix through stevia, maple syrup or your sweetener of choice and 1-2 Tablespoons of Chia Seeds.
Stir well to combine and then leave in the fridge overnight. In the morning top with granola, nuts, seeds, fruit or any other toppings you like and enjoy.
Day 7 – Full Breakfast Fry Up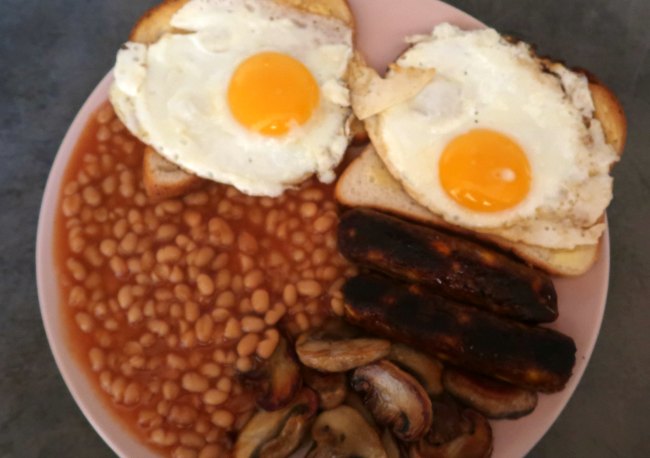 There are many ways to enjoy a healthy vegetarian breakfast fry up. Mine included vegetarian sausages, mushrooms, baked beans and fried eggs. Here are more ideas to include in your breakfast:
Any vegetables – such as tomatoes or spinach
Halloumi or another cheese
Vegetarian bacon, sausages or other meat alternative
Hash browns
Beans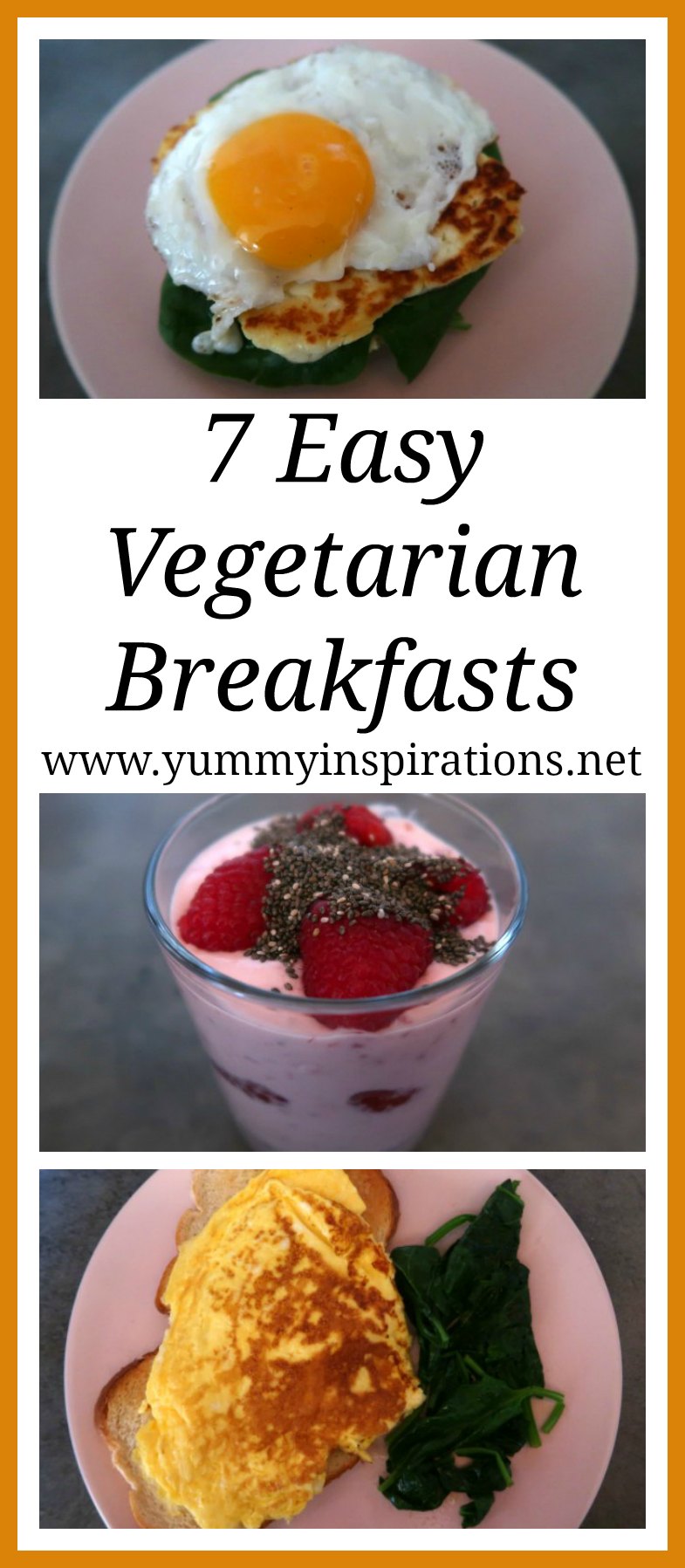 As you can tell, here are so many deliciously healthy vegetarian breakfast ideas that you can enjoy through the week.
Subscribe to receive the FREE weekly newsletter, packed full of easy recipes and food inspiration plus exclusive, subscriber only content. Click here to Subscribe by Email.
amzn_assoc_placement = "adunit0";
amzn_assoc_search_bar = "true";
amzn_assoc_tracking_id = "yummyinspir-20";
amzn_assoc_ad_mode = "manual";
amzn_assoc_ad_type = "smart";
amzn_assoc_marketplace = "amazon";
amzn_assoc_region = "US";
amzn_assoc_title = "Vegetarian Inspiration:";
amzn_assoc_linkid = "ba4d048d9f0c40fd5da863765fa713d3";
amzn_assoc_asins = "1623367417,1936493969,1641520000,1615190619";

Disclosure – this post contains affiliate links.
The post 7 Healthy Vegetarian Breakfast Ideas appeared first on Yummy Inspirations.
from Yummy Inspirations https://yummyinspirations.net/2019/03/healthy-vegetarian-breakfast-ideas/