7 Cheap Low Carb Meals – a week of easy Keto Diet dinner recipes on a budget.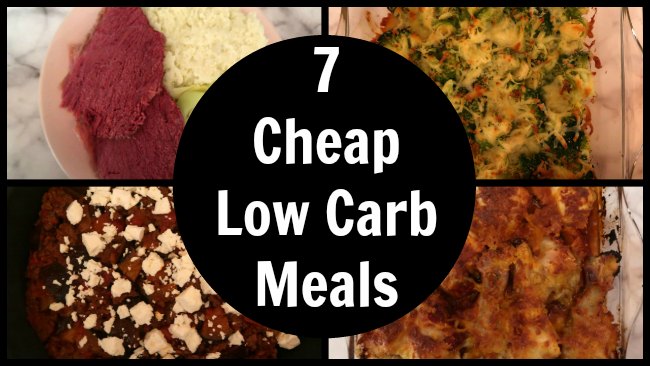 7 Cheap Low Carb Meals
Following a low carb way of eating, like the Keto Diet, doesn't have to cost a fortune. There are plenty of easy, cheap low carb meals that you can enjoy through the week.
//video.mediavine.com/videos/j5yrrupxgstjsv3hscvm.js
In this post you'll find a week of cheap low carb meals, which are also Keto Diet friendly and family friendly too.
Day 1 – Low Carb Vegetable Casserole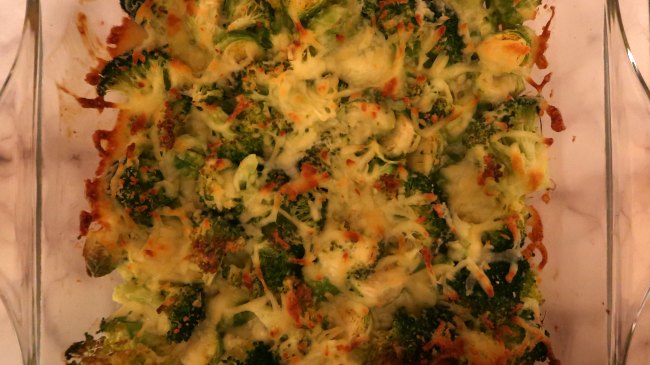 I like to balance out my week with meaty and veggie meals, usually starting with a meat free Monday. This veggie casserole is so easy and budget friendly because you can include whatever vegetables are in season (and cheap) near you.
In this instance I included brussels sprouts and broccoli. To make the vegetable casserole, clean and chop your chosen vegetables into roughly the same sized pieces. Then, pop it all into a baking dish, along with 1/4 cup of – sour cream, cream and grated cheese. Give it a good mix and top with more grated cheese.
Place into your oven, preheated to 180C/350F, for 15 to 20 minutes or until golden and done to your liking.
Day 2 – Corned Beef, Cabbage & Cauliflower Mash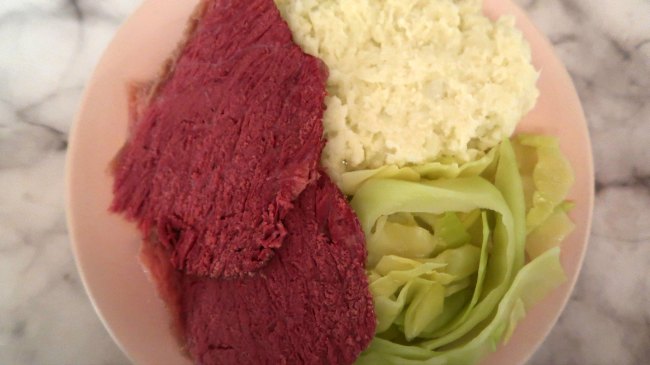 You'll need a corned beef for this dish and then you can either cook it according to the package directions or I follow the method of half an hour per 500g/1.1lb and then an extra half an hour. So my 1kg corned beef in this instance was cooked for 1.5 hours. (Here's the full recipe.)
For low carb sides, I went for cabbage and cauliflower mash. The cabbage was cooked in the water once the corned beef was cooked and removed to a plate. So, all the wonderful flavours were absorbed by the cabbage. It only took a few minutes to soften and cook, I added a bit of butter along the way too, for hearty, buttery cabbage.
The cauliflower mash was made by cooking cauliflower until soft enough to mash and then mashing, together with butter, salt and cream.
Day 3 – Tuna Noodle Casserole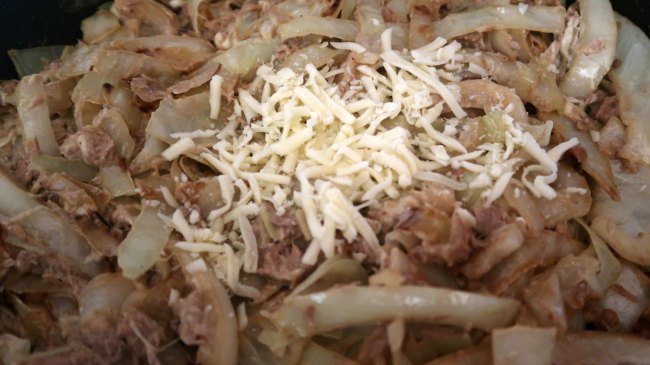 You'll find that chopped cabbage makes and cheap and easy noodle substitute. For a low carb tuna noodle casserole all you have to do is slice as much cabbage as you want into noodles. And, in this instance, they are fried in butter up until softened, adding more butter along the way when needed.
Then, add a tin of tuna, a couple of tablespoons of cream and sour cream and a few handfuls of grated cheese. Mix it all together, let it bubble and thicken for a minute and then you have a creamy, cheesy tuna noodle casserole.
Day 4 – Keto Burgers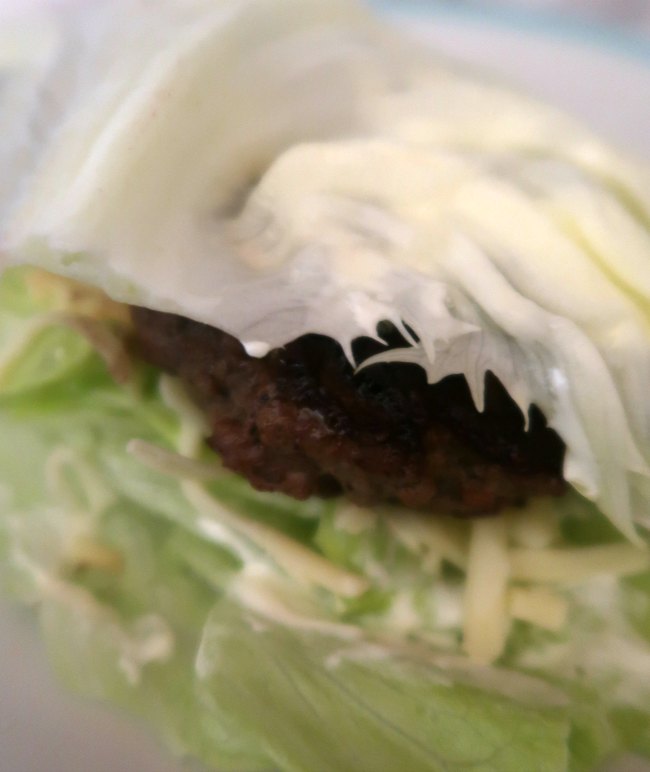 I bought a bulk package of just under a kilo or beef mince and used it over day 4 and day 5. For day 4, I went for keto burgers.
Simply combine beef mince together with your burger seasoning of choice, mine are salt and ground coriander.
Then, cook the burgers until browned on both sides and cooked through. Instead of carby buns, use lettuce leaves as a bun and then enjoy with your burger fillings of choice. Mine are simply sour cream and cheese.
Day 5 – Easy No Bake Moussaka
I found this recipe on the BBC Good Food website and adapted it to easily be low carb friendly. Simply brown the beef mince and then add the chopped eggplant/aubergine to brown too.
Once the beef and eggplant has browned, add the chopped tomatoes. Toss to combine and simmer until the sauce has reduced and all is softened and cooked through. Finally, top with crumbled feta and enjoy.
Day 6 – Turmeric Cauliflower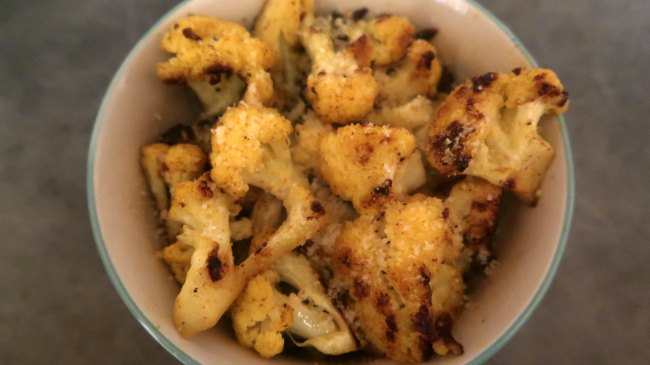 When the season is right, cauliflower can be found really cheaply. Lately a whole head of cauliflower has been as little as €1.25. You could enjoy cauliflower in rice, mash casserole or a cauliflower mac and cheese.
In this instance though, I've sauted the cauliflower in butter and turmeric until browned. Then move to a bowl and top with grated parmesan. An easy cheap low carb meal that's vegetarian friendly too.
Day 7 – Best Ever Chicken Bake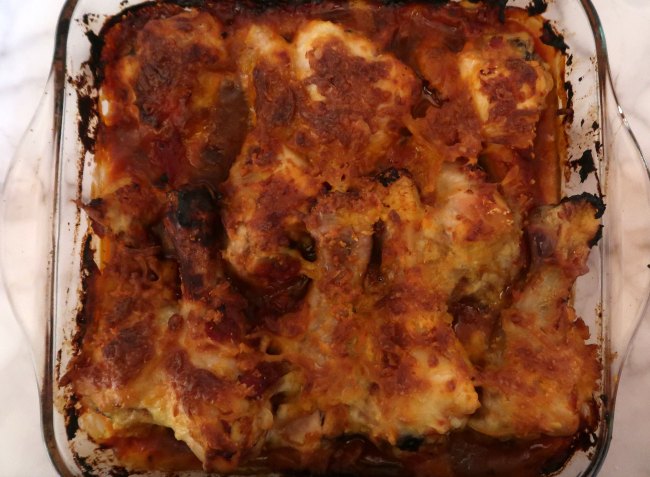 Chicken drumsticks are our favourite piece of chicken, so I'll often make our best ever chicken bake. (Here's the full recipe and video tutorial.) All you need is a package of chicken drumsticks, a jar of low carb pasta sauce and cheese.
Place the drumsticks into a baking dish, cover with the pasta sauce and toss until well combined. Place into the oven, preheated to 180C/350F for 30 minutes. Remove from the oven, toss the chicken over and then top with a generous portion of grated cheese.
Place back into the oven for a final 30 to 45 minutes or until golden and cooked to your liking.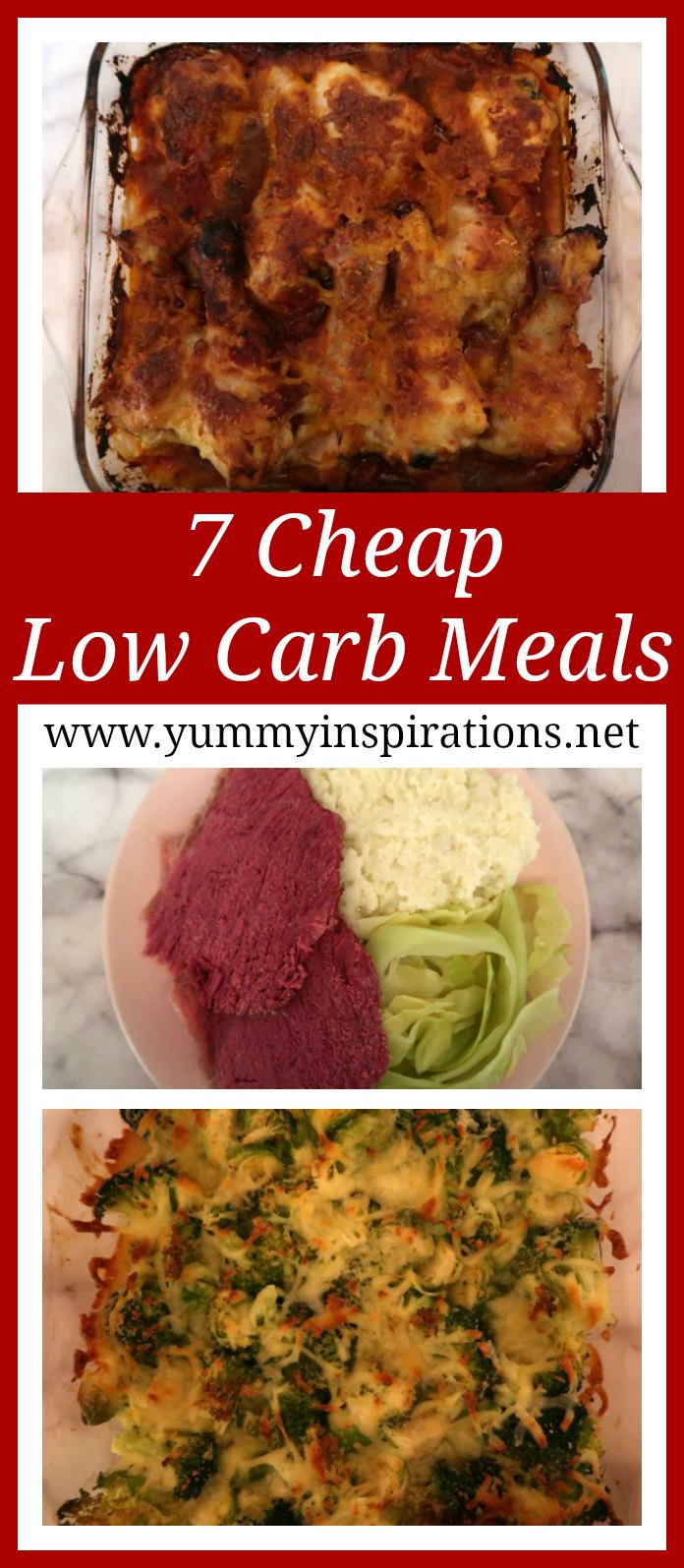 You can feel free to mix and match the days through the week or pick and choose which you think you'd like to try this week and come back next week to try another easy meal.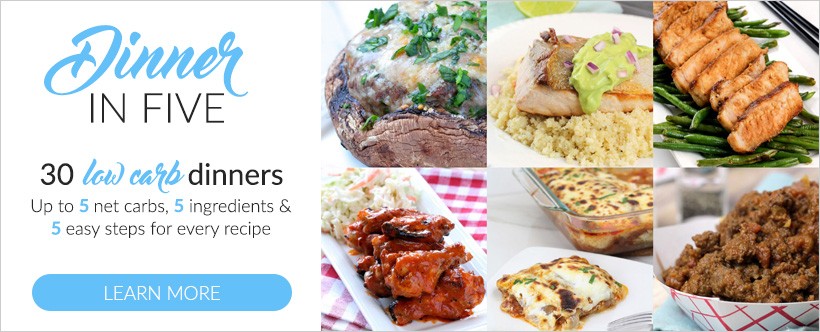 Subscribe to receive the FREE weekly newsletter, packed full of easy recipes and food inspiration plus exclusive, subscriber only content. Click here to Subscribe by Email.
amzn_assoc_placement = "adunit0";
amzn_assoc_search_bar = "true";
amzn_assoc_tracking_id = "yummyinspir-20";
amzn_assoc_ad_mode = "manual";
amzn_assoc_ad_type = "smart";
amzn_assoc_marketplace = "amazon";
amzn_assoc_region = "US";
amzn_assoc_title = "Keto Essentials";
amzn_assoc_linkid = "180d0ed1b740453e50c71deedb7b48c9";
amzn_assoc_asins = "1628600160,1628602635,1939754445,1623158087";

//z-na.amazon-adsystem.com/widgets/onejs?MarketPlace=US
Disclaimer – this post is meant for informational post only and should not be construed as medical advice. Please consult with your health professional before making any dietary changes.
Disclosure – this post contains affiliate links.
The post 7 Cheap Low Carb Meals appeared first on Yummy Inspirations.
from Yummy Inspirations https://yummyinspirations.net/2018/12/cheap-low-carb-meals/